Bring Predictability and Reliability to Your Hiring Process
We are incredibly successful in recruitment because we take a thoughtful approach to ensure the right fit for both the candidate as well as the company. Gut feeling is not a good enough reason to hire someone. Neither is relying solely on past performance indicators like GPA, references, or a pedigreed resume. Instead, we use hiring tools, like The Predictive Index that incorporate behavioral and cognitive insights. This is the best way to predict how a candidate will think and work.
Whether you have an HR department and just need to outsource parts of your recruitment process, or you need to conduct a full-service search, we can assist you.
Two Models of Recruitment
We offer recruitment support exclusively for our Predictive Index clients. Our thorough process can be adapted and adjusted to integrate into your existing organizational process.
Recruiter Extension – If your needs are beyond one hire, we offer a package that will ensure candidate pipelines are full. We will work on 3 openings at a time, on a continuous basis, so if one opening is filled, we immediately move on to the next without losing precious time.
Retained Search – The full-service retained search provides peace of mind with a 90-day replacement guarantee (though it's never been used) and post-hire coaching for both the candidate and their supervisor.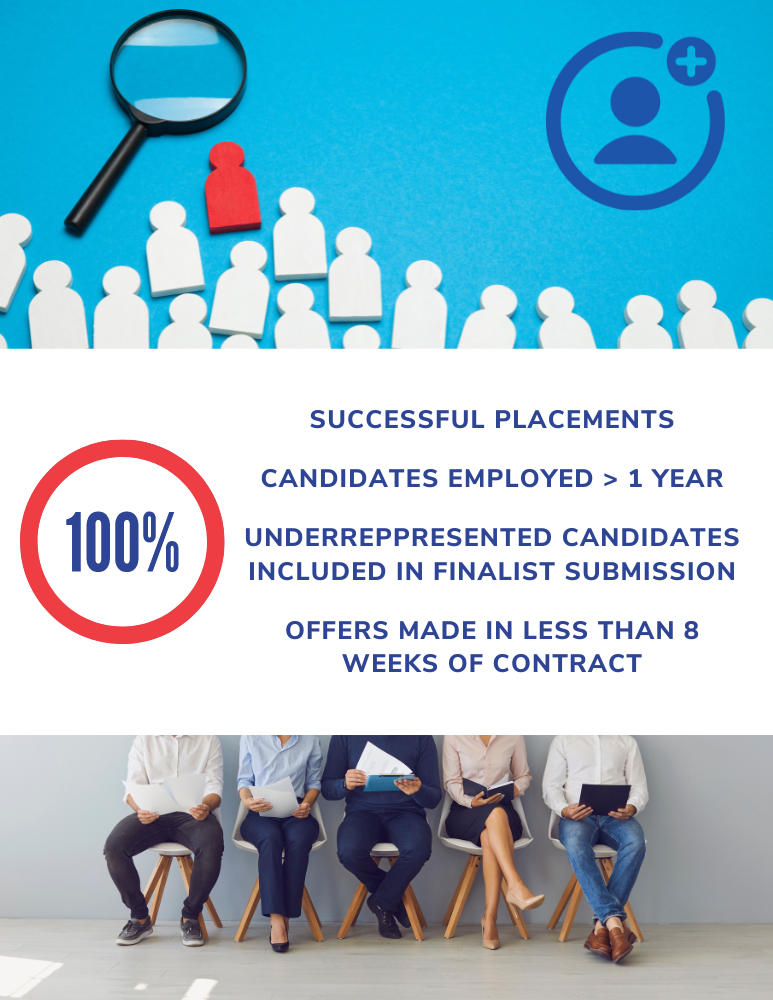 We can help lower costs, save time, and minimize risk.
Using PI Lowers Costs
Talent acquisition and retention can be both costly and
time-consuming. But PI's behavioral data has helped hundreds of
companies control those costs.
The average rate of turnover is >$15k per person.
PI has helped clients reduce attrition by up to 20% YoY.
A hiring failure can cost up to 3x that of a salary.
The annual cost of a PI subscription is roughly one-third of the cost of one bad hire (at a $75k salary).
Using PI Saves Time
PI brings order to an often chaotic process, filtering candidates by
behavioral target (set according to the traits hiring teams know will
lead to success in a role).
The average time-to-

fi

ll rate is more than

40 days.

Many PI users have cut that

fi

gure

in half – or more.

One PI Partner client made nearly

2k hires in 2 months

*

Hiring teams that use PI regularly conduct interviews




weekly, even daily, because their pipeline is updated.
Using PI Minimizes Risk
Taking the guesswork out of hiring gives business leaders peace
of mind – and frees them up to focus on execution and results,
knowing their talent strategy will bring in top performers.
Quits are still up

23%

since pre-pandemic.

Behavioral data – such as PI's – brings clarity to hiring.

Its application also fosters a consistent end-to-end




experience in hiring teams and candidates.

Scienti

fi

cally validated, best utilized alongside a variety




of other data points.
What Our Clients are Saying
"Thank you so much for all the hard work you've put into this. This is such a crucial decision for us to make for the future of [the organization] and I feel so much more confident and comfortable that you are here to assist us in the process."
Dr. Anselme U.
Physician M.D. and Founder
"I really like the job description! I think that's the first time I've seen what we wanted adequately written in words."
Dr. Wade T.
Pediatrician M.D.
"You really helped me more than I thought possible! Megan was a dream to work with too."
Dr. Caroline L. 
Physician D.C., F.I.C.P.A.
"Your system helped me so much. It helped me think through things more thoroughly and evaluate what I really needed."
Chris S. 
Managing Director
"I can't express how appreciative we are of your services. It took a huge burden off of us."
Dr. Ting-Chang 
Pediatrician M.D., FAAP
We were delighted to listen to a recent McKinsey podcast with Workboard co-founder and CEO, Deidre Paknad. In our firm, we help clients focus on…
read more